Research and Development on Steroids? Using Laboratory Informatics to Support Innovation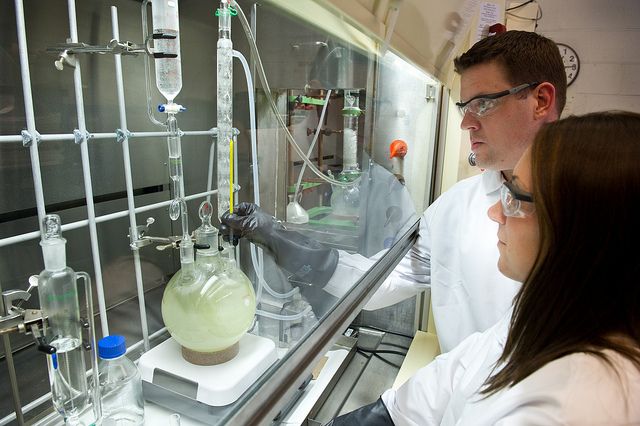 Gone are the days when one, or even a few, ground-breaking products could sustain a global company inevitably. As competition between corporations and organizations intensifies, "companies are spending more on research and development than ever before."1 In fact, the ten companies that spend the most on research and development spend upwards of $100 billion dollars per year to develop new ideas that might "literally transform the economy"2 and boost revenue.
However, one of the most important components of innovation-based research and development is managing data, which requires analyzing completed experiments and subsequently determining the experiments that must still be conducted. Unfortunately, "up to 40% of all experiments run are actually repeats of work that's been done before but can't be found or evaluated." Given the diversity and complexity of modern research and development labs, particularly those in materials laboratories, this bottleneck of data analysis can hinder the transformation of data into knowledge.
Laboratory Informatics: Steroids for Research and Development
Ultimately, researchers must develop more sophisticated tools for managing and analyzing their data. Luckily, companies such as BIOVIA have already developed laboratory informatics systems that can significantly improve the planning and execution of experiments, thus increasing the likelihood that research and development teams can more quickly innovate. How is this accomplished?
Here are some key questions research teams should ask, and then address using lab informatics:
Was this done before? One of the benefits of using laboratory informatics systems such as the BIOVIA Experiment Knowledge Base (EKB) is that, like our electronic laboratory notebooks, the BIOVIA EKB software can be integrated with existing laboratory machines. This enables research and development scientists to directly collect and extract raw data, thus increasing a laboratory's organization and productivity. This data is then saved onto the BIOVIA EKB platform and can be subsequently mined and queried. All of these data features let researchers determine if others have completed a planned experiment, and subsequently learn from the experiments others have done. In this way, organizations can prevent experimental repeats that can occur when individual teams are working in isolation.
Where did this come from? In materials laboratories, it is common to divide material into subsamples. However, it is equally important to keep track of how the sample was produced, as well as other samples like it, and ascertain how the sample was mixed with available materials. This drive to capture everything about a sample throughout its life cycle is "fueled by the demands for higher efficiency in material testing; consistency, quality, and traceability of data," among many other concerns.3 The BIOVIA EKB software thus provides an essential means for tracking chemicals and also seeing how they can be modified to create new products. No level is trivial given that even quantum mechanics determine the molecular dynamics and processing of a product, which will in turn affect its properties and performance.
How can we take this material and make it something else? As suggested above, one of the benefits of using systems like BIOVIA EKB is that researchers can visualize their data, and create a sample report with information on how the sample was prepared, along with its measurements and components. Using this information, research teams can more easily re-design the entire workflow as needed. So if there was a problem at the assembly level of a sample's life cycle, research and development scientists could "travel back in time" and determine ways to improve the processing or structure based on changing sample components.
The BIOVIA EKB platform, like the electronic laboratory notebooks, is designed to increase productivity and collaboration efforts between individuals, to the benefit of companies large and small. To determine how our EKB platform can support your research and development needs, please contact us today.
"The 10 biggest R&D spenders worldwide," November 17, 2014, http://fortune.com/2014/11/17/top-10-research-development/ ↩
"Why Investing in R&D Matters," February 9, 2012, http://2010-2014.commerce.gov/blog/2012/02/09/why-investing-rd-matters ↩
"Combining material and model pedigree is foundational to making ICME a reality," March 21, 2015, http://link.springer.com/article/10.1186%2Fs40192-015-0031-2 ↩